Samuel F. Albergotti
Meet Sam Albergotti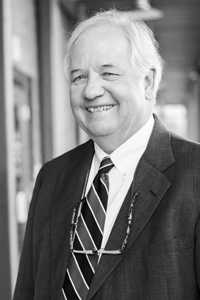 Email:
sam@jonesfirm.com
Assistant:
Christine Castillo
864-224-3474
Email: christine@jonesfirm.com
Sam has been a lawyer since 1979. He is a graduate of Washington & Lee University and The University of South Carolina School of Law.
Sam practiced with the Columbia firm of Quinn, Brown, Staton & Boyle before moving back to his hometown of Anderson in 1984. He has appeared before the South Carolina Court of Appeals and the South Carolina Supreme Court in a variety of matters.
Over the years, Sam has developed experience in a variety of areas of law, mostly related to real property in one form or another.
Sam's experience includes the following:
Property owners association law and litigation, foreclosure, partition, easements, restrictive covenants; Interstate Land Sales Full Disclosure Act; fraud, negligent misrepresentation, eminent domain and condemnation, landlord-tenant, corporate dissolution, title disputes; actions to clear title, litigation involving real estate purchases and sales, reformation of documents, banking, lender liability and commercial and residential real estate closings.
Primary Practice Areas 
Reported and Notable Cases
Menne v. Keowee Key Property Owners' Association, Inc., 368 S.C. 557, 629 S.E.2d 690 (2006), certiorari denied (July 5, 2007).
Hardy v. Aiken, 369 S.C. 160, 631 S.E.2d 539 (2006).
Education
Washington & Lee University, 1975
University of South Carolina, J.D., 1979
Memberships
South Carolina Law Review 1976-1979
South Carolina Bar Association, 1979
United States District Court for the District of South Carolina, 1979
United States Court of Appeals, 1979
Anderson County Bar Association
S.C. Bar Community Association Law Committee (Chairman 2015-2017)
Community Associations Institute (CAI)